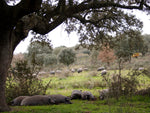 It's pretty usual when a customer shares his/her travel experience to Spain with us and, in a very passionate way, narrates the architecture of the cities they visited, the food and wine they enjoyed and how many times they eat jamon all over the place.  "That beautiful Jamon Iberico I ordered in Madrid" or "in Barcelona we got a ham that melt in the mouth" are very common comments. 
But, where is Iberico ham made? 
Iberico is a breed of pig named after the "Iberian Peninsula": Spain and Portugal. So yes, it can be found in both countries (having said this, most of the Portuguese Ibericos are processed in Spain). All over Spain? Nope. You can go to Madrid, Valencia or Barcelona and enjoy an amazing Acorn Fed 100% Iberico ham (its real/proper/legal name), but the pig doesn't live in either of those cities (it's like driving an Aston Martin in Miami and thinking it's made in town). 
Iberico is a pig originally designed to roam freely on the oak forest, known as "dehesa" in Spanish. Those oak trees
("Quercus"
of the beech family, Fagaceae
) are found on the west part of Spain and eastern Portugal: from Salamanca all the way down to Huelva and in the Portuguese territory next to these provinces. That's where those producers of the Acorn Fed 100% Iberico ham are located, and also where the 4 Iberico ham DOP's are: Guijuelo, Extremadura, Huelva and Los Pedroches.  
Although these days Iberico is also bred and raised in other areas of Spain, those animals are in most cases farm raised, not free ranged and grain fed, not acorn finished.  
So now you know! You can enjoy the best ham in the world all over Spain but, if you want to go to the source of this wonder...go west! 
Remember to s

ubscribe to our email

s to receive discounts, info on new products, or other tips on our products! Also, please, feel free to leave comments on this post.