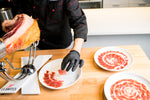 Christmas is almost here! Yes, those days when we all gather with family, enjoy more food than usual, try not to speak politics at the table (to keep peace with other family members) and, of course, we drink, sometimes, a little bit too much.  
So, did you know that same absolutely wonderful product you enjoy at dinner in paper thin and bite size slices, that fat that melts in the mouth, that rich and intense taste, can be also used to cure hangover? So now, my friend, you know: our Acorn Fed, 100% Iberico ham (Jamon de Bellota 100% Iberico) can also help you in that moment. 
So, you open your eyes, your head can't think clearly and your stomach, in case it's up to eat anything, it's craving for junk food. Greasy junk food. Dont feel guilty: you are not the only one. 
When we drink too much alcohol, we lose B Vitamins: B1, B3, B6... And, do you know a product that is loaded with all those vitamins? Eureka! Jamon de Bellota 100% Iberico. It provides us with group B vitamins: B1, B2, B6 and B12, as well as Vitamin E.  As for minerals, calcium, iron and zinc stand out.
Yes but you wake up and your body isn't ready to eat anything solid: what about a warm soup? You can make the most delicious broth by boiling the bone left from your ham (that you probably carved down to the bone the previous night): it's super tasty, will comfort your body and will help you hydrate. 
We deeply believe food can be the cure to many diseases. Let's start from curing your next hangover! 
Salud! 
LA JAMOTECA