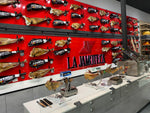 Just a few days ago someone posted a comment on our Facebook account wondering why we are able to sell ham from Spain. "El aeropuerto lo confisca y se lo vende a ustedes?", "do customs confiscate it and they sell it to you?", Max Martinez asked with a large dose of sarcasm.
Despite what people think, ham from Spain (Serrano, Iberico...etc) is allowed in the US...as long as it's produced from an establishment USDA approved, that meets its standards and, in Spain, there are NOT many. In fact, the first establishment USDA approved was FERMIN, back in 2005. It's only from that moment on when the authentic Serrano or Iberico hams can be legally imported. 
Yes but, could I buy Serrano in the US before 2005? The answer is YES, but the ham was, let's call it, "Serrano Style": the raw material (hams) were from USDA approved establishments in North Europe (Denmark, Poland..etc). Iberico, since it's a unique breed from Spain, wasn't available. 
But...what if it's vacuum packed? It does not really matter how the ham is: bone in, boneless, pre-sliced...etc. If that ham doesn't came from a USDA approved facility and with an approved label (nutrition facts..etc), you cannot bring it in. Period. 
Ok, so if I buy it at FERMIN or any of the other establishments, can I bring it in? Here is when things get a little bit trickier. Getting Spanish ham into the US is not only being USDA approved: the product must be inspected before shipping (labels, Health certificates, lab testings), and same process when the container/plane hits the port of entry in the States.  So, if you go to an USDA inspected producer, you can get a ham made under USDA regulation but most likely you wont get all the paperwork required to go thru customs. 
OK, understood but, what if I bring it, anyway? You can always try or smuggle it in your suitcase, but if customs finds it, it will be confiscated and you will be fined, and we can think of better ways to end up your super memorable trip to Spain. 
So, go to Spain, enjoy the cities you visit, go to amazing restaurants, eat your ham, the tapas, the cervezas (clara, caña, caña con limon...) and, if you want to bring it, bring it in your stomach, not in your suitcase. If you need ham within the US, LA JAMOTECA :)
Que aproveche!