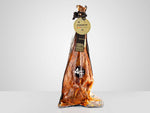 Our location in Miami is right across The Cheesecake Factory, so there is a nice flow of customers between both places. We have 3 hams on display at any given moment (Serrano, Pasture raised 100% Iberico, Acorn Fed 100% Iberico) and they all are carved by hand, in the most traditional way, so it catches the eye of many people. So, attracted by our carvers skills, they come to see what we do and taste the ham. For the novices in this field, it's curious to see such a display of hams with a larger amount of fat as they find in supermarkets all over the US. 
They all want to try it, but curiously enough, not many (among those novices) go for the Bellota (Acorn Fed), being the best and most expensive ham in the planet, but for the Serrano. The reason? Serrano is way leaner than Iberico, and many people still link this type of fat to high cholesterol and vascular risks. It is, in fact, the opposite. 
 Iberico is a unique breed of pig from Spain (and Portugal - the Iberian Peninsula), made to roam freely on the land (known as "dehesa", a mediterranean ecosystem). This special pig has the ability to transform food into fat: that's why its meat is so marbled and, hence, so tasty. 
The pig is fed on a natural diet: grasses, roots, natural grains...and a few lucky ones, on acorns. So: if the pig is free range, fed on an organic diet, do you think it can be unhealthy?  Furthermore: those pigs fed on acorns are the fattest pigs on earth but, due to their acorn diet, that fat is high in HDL (good cholesterol), Omega 3, Oleic Acid, antioxidants... And since acorns have pretty much the same properties as olives (used to make EVOO), when you eat fat from the acorn fed 100% Iberico ham at La Jamoteca (De Bellota 100% Iberico, in Spanish) it is pretty much like eating Extra Virgin Olive oil! That's the reason why these pigs are also known as Olive trees...with legs!
So please, if you are ever around La Jamoteca in Dadeland and want to try ham, for straight for the Bellota 100% Iberico ham: you now know why. 
Que aproveche! And remember: with ham and wine...life shines!